After a not so great first enduro at Fontana, this girl was ready to have a better Sea Otter but I wasn't sure how it was going to go since I was in bed for a whole week after Fontana, which meant I was on my bike 3 times before racing Sea Otter! I always love Sea Otter as I get to see my friends from all over the country that come to this race!! It's my time to catch up with my favorite people!! Plus I live across the street, so it's super easy and convenient for us to get there!
I felt pretty good in line for the first stage, it was the DH course that I rode once, but I knew I didn't need to worry too much about that stage as it was the shortest. I got to the bottom of the stage and saw my time was faster than last years, so I was pretty stoked about that. I ended up riding all of the stages faster than I did last year, so again, I was happy with that. I knew I wasn't in tip top condition with the last few weeks of illness, antibiotics and infections so I had to set a realistic goal for myself, which was to STAY ON THE BIKE and to try and beat my times from last year.
Once results came up, I was 10th. At first I was a little bummed about that, but then when I looked at the times 6-10 were all VERY close together! With all things considered running up to the race, I was satisfied. 🙂
Brian on the other hand rode SUPER STELLAR and landed himself up on the #1 step! I was so proud of him!! He had worked super hard and earned this podium!
Our little Bae probably had one of the best podiums of the weekend, he landed himself 5th in a VERY STACKED podium with some of the best racers in the world!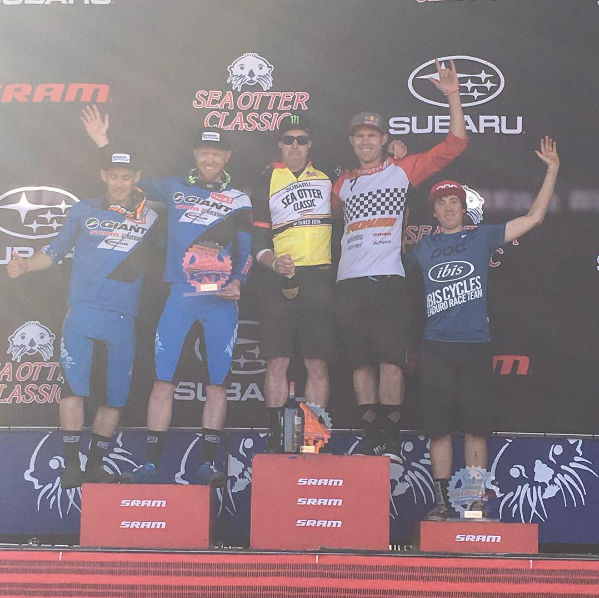 My weekend wouldn't have been possible without the AMAZING AND TALENTED MARIN BIKES MECHANICS, Gravy and Tom! They had my bikes all tuned and ready to go the whole weekend!! I am so thankful for their support!!
And while Dillon got to share the podium with Yoann Barelli, I got to take a quick pick with him! 🙂 <3