This last weekend was the Kamikaze Bike Games at Mammoth Mountain for the California Enduro Series second to last round.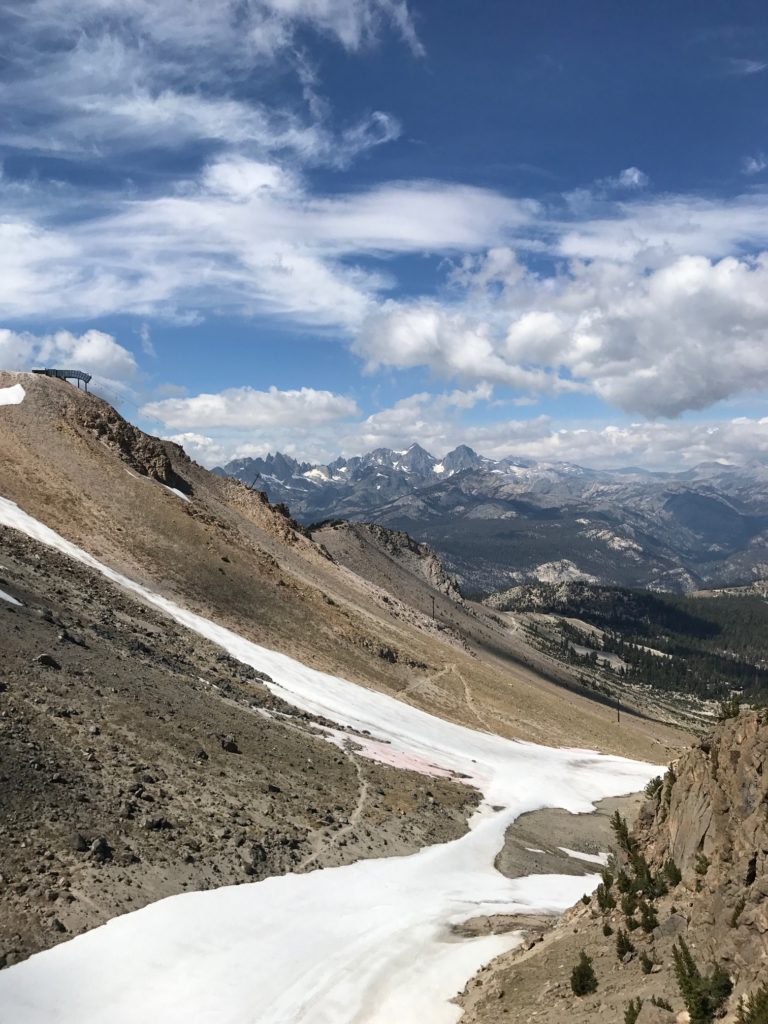 I was excited for this race for a few reasons. First it's my FAVORITE mountain to ride, the dirt is loose kitty litter and it's SO much fun! Second, my family comes to this race every year so it's like a mini family vacay and third, I get to race my attack trail!! 🙂
This trip we had my mom, my superstar dad, Brian, DudeDogDillon and Jeff Evans in the condo with us. My mom laughed at how many supplements and healthy concoctions us health nuts had in the condo.
Thursday we got up to pre ride nice and early and Brian and I had a plan to get in as many runs as we could. I also knew that I had to tackle the fast line on the…dun, dun, dun…"HEART OF DARKNESS" which is on Bullet. I watched a couple of my friends do it when we were up practicing a couple weeks before and knew it was next on my list. We warmed up on flow trail and DC10, which is my favorite trail out there and a new stage for this year. We also did a couple of runs on the Kamikaze, shock treatment run which is another super fun trail.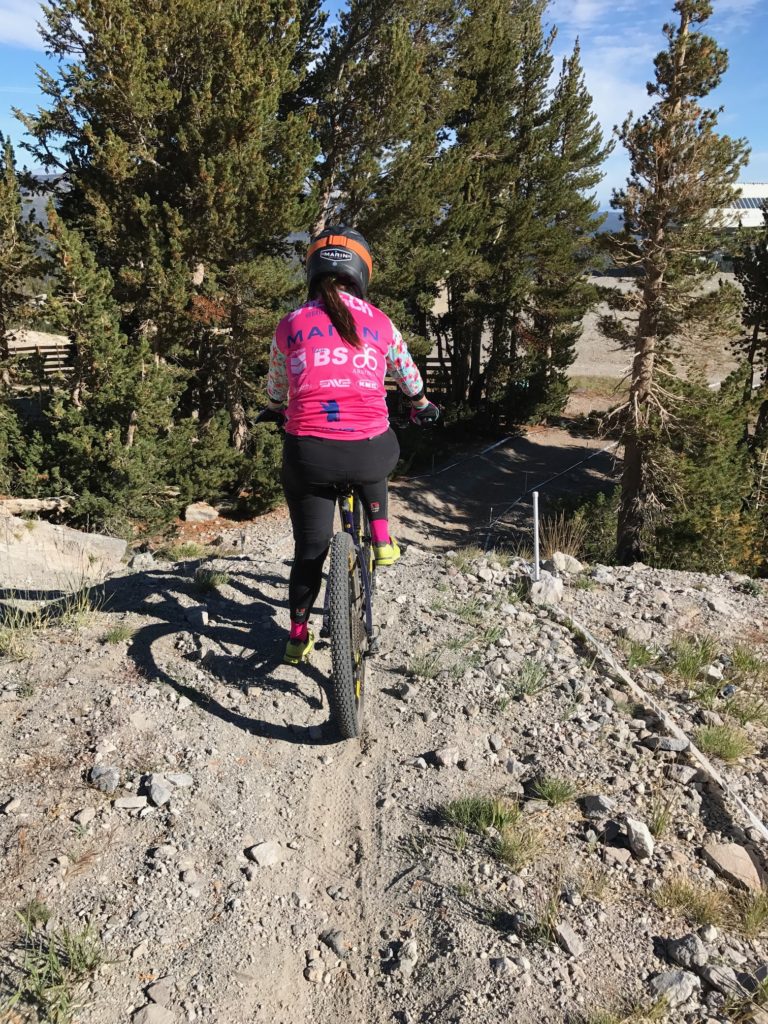 I knew it was time to hit the Heart of Darkness, Brian did a good job of prepping me and having me practice leaning back and looking ahead. So I decided I felt more comfortable following him into to it vs. stopping and looking, so I followed him and I screamed as I made it down the first drop and out of the other rocks in the heart of darkness!! I was so proud of myself! Conquering my fears is something that feels so good! Brian asked me if I wanted to walk back up and do it again, I said NO! HA! The reason it's so tricky is because you do the first drop in but then you have to avoid a bunch of rocks and trees when you get in there. The picture below really doesn't give it any justice! Believe me, there are a lot of crashes and injuries in the darkness there!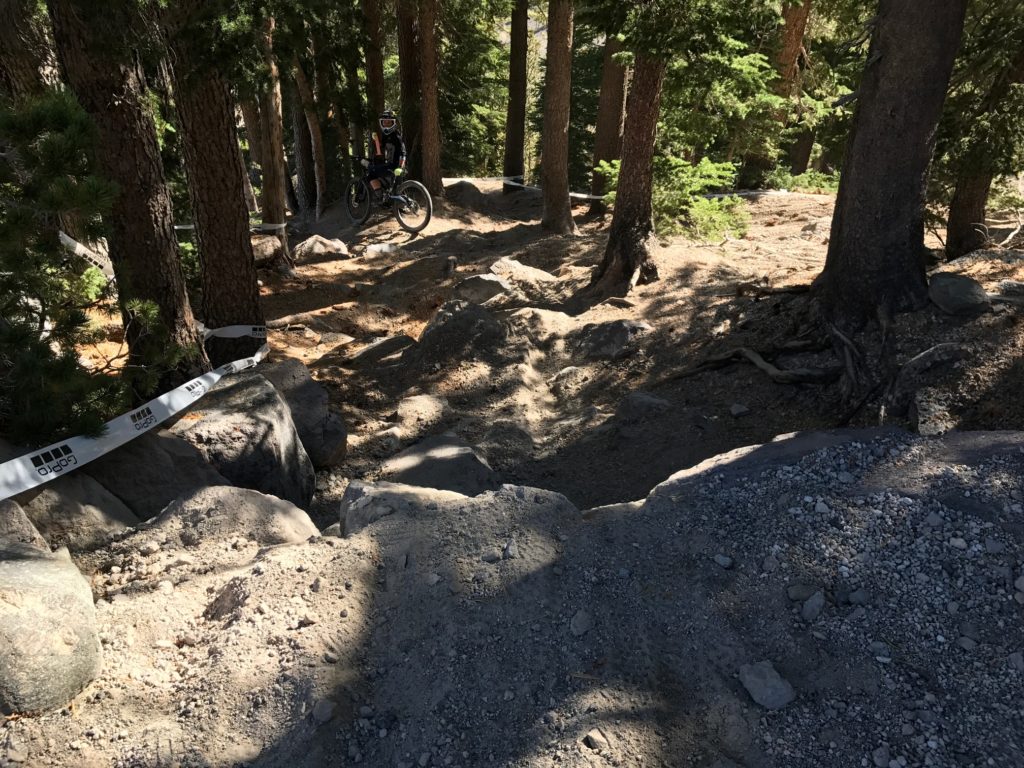 The Heart of Darkness – The photo doesn't do it justice! lol
We went up and did the run again from the top, this time when I went into the heart of darkness, I had a little too much speed, I made the first drop, but I got out of control in the middle of the darkness and I thought I was going to ride it out until…I didn't. I crashed super hard and landed ass-cheek to rock and I just laid there attached to the bike. I made sure to yell that I was ok, but Brian was already running up to me. I just had to lay there for a few minutes as my booty was sore AF!!! I was super frustrated as I had just made it the run before. I decided it was better to run a slow line fast, than a fast line slow (or crashing) so I had Brian walk my bike up so I could ride the other line that I know well. He watched me go through and told me I rode that faster than the other line I was so determined to do….well shit!
I didn't want to stop riding, so we did a couple more runs for the day before we called it good. I went to the upper rock garden on DC 10 and was super bummed to see that they taped off the line that us girls found a couple weeks before so I decided to tackle that another day since I wasn't feeling tip top from the crash. Brian and I did about 8 laps while my dad and Dillon rode all day! My dad just loves riding lifts with us, I guess he is one of us now. We almost talked him into racing…but not this time.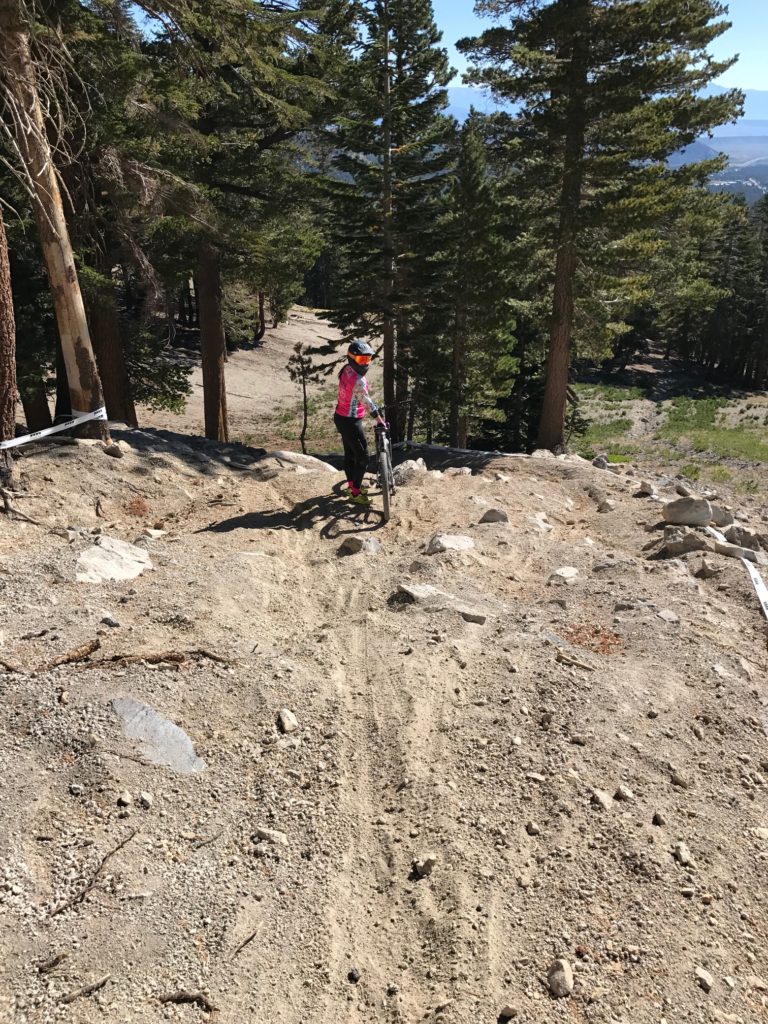 Scoping out lines with the boy!
Friday I decided to hit the mountain with my awesome friend Alexandra for a girls only day. We did a few warm up laps on the Kamikaze run before we hit the DC 10 rock garden, we were going to tackle this today! I was really sore from my crash, but luckily Alexandra is a soon to be Chiro, so she kindly worked on my every day (and everyone else too!). At this point my back didn't hurt too bad, it was mostly super sore and tight. So we went over to the DC10 rock garden and decided to look at it first. We saw Anneke Beerten checking it out, she took the new line that I saw too, so Alexandra and I followed. We decided to do the run again to put it in our memories. Then I took Alexandra over to Bullet to show her my line through the Heart of Darkness since she had an issue on the line I did as well. So we nailed the practice run and I decided to call it good so I could ice my back.
We went to go to the rider's meeting and ran into Micayla Gatto who we chatted with and ended up inviting her over to the condo for dinner. The boys and girls were so excited, we had to play her, "Ferda Girls" video so my parents could see it. It was pretty funny she was singing it in person while we watched. Needless to say we had a lot of people over for dinner in the condo that night. I asked Ninja Brian to bring his massager to the condo for me, but somehow, Micayla was the one getting a massage not me!! HA!
Ninja Brian's special massage tool got some love!

I decided to take off Saturday because my back was getting worse, I was taking any herbs and spices that the boys would give me for my back, turmeric, these special indian leaves, quit your bitchin stick and many more. I would also go from the ice cold pool to the hot tub back and forth over and over. I was pretty worried about race day because I couldn't bend over and could barely squat. We realized we hadn't seen my dad in hours so we called to make sure he was ok, he answered and said he was just having so much fun on the mountain! I guess we have a park rat on our hands!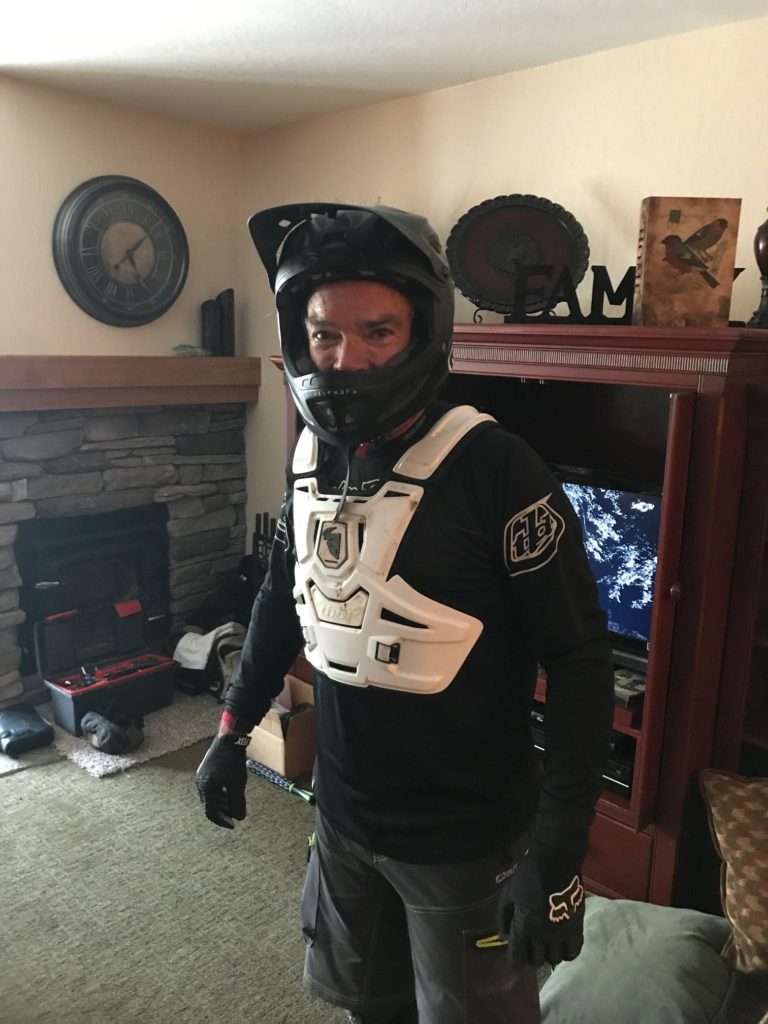 Thanks to Brian my attack trail was super dialed and now had my "Ferda Girls" sticker on her. She was ready to race!
Race day came and I was feeling off, I was nervous because I like to do well here, but I was bummed because my back was hurting. I knew that climbing was going to be a challenge since I hadn't pedaled at all since Thursday, I was just taking the lifts.
We started the day off with DC10 as our first stage, I knew I had to pedal as much as possible in the beginning of the stage, because the rest was just going downhill on the single track. I felt good, I nailed the first rock garden and just reminded myself to keep it upright in some of the deep, loose corners. I made it down with out crashing and I was smiling ear to ear! The next stage was my second favorite stage, so I headed up to stage 2.
Stage 2 is the Kamikaze to Shock Treatment stage which has a TON of pedaling! I was hoping my lady hips would help me keep my momentum up on the fast fire road and I could get some time on the ladies. I knew I just needed to keep it upright on shock treatment as you can get buck wild in some of the turns and it is easy to get out of control. I came around a turn in a blind corner right into a steep rock chute and there was a huge boulder in the middle of the line I take, it scared the crap out of me because I came into that turn super hot. I managed to make it through and pedaled my buns out. When I was on Whitebark I could see Zephyr ahead with Lauren right in front of her. I kept pedaling and tried to go as smooth as possible through Richter because I had some fast straight lines through the middle of the trail. I got to the last wood berm to the finish and was so close to the girls, I almost caught them. I was really happy with my finish on that stage. I couldn't breath, I pushed so hard to try and catch them!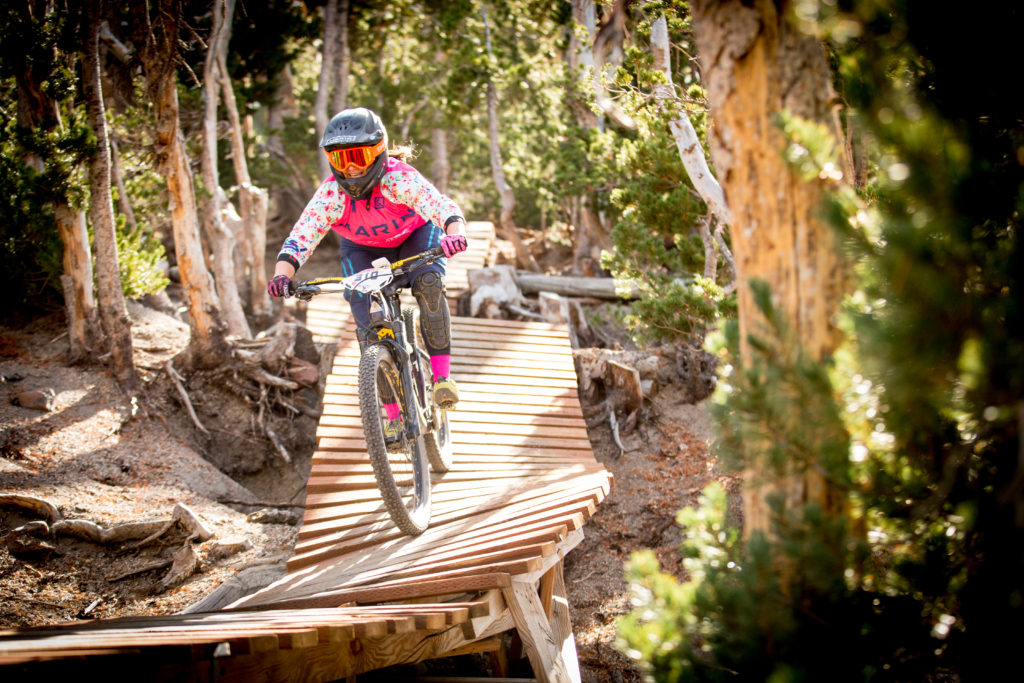 Photo by Called to Creation
Next we took the lift up to the stage 3, which is Flow. Tasha was lined up in front of me and she told me to let her know if I needed to pass, I told her I wasn't going to need to pass her. We are very closely matched when it comes to racing this type of terrain, she rocks the DH sections and I have a little more in the pedal sections than she does. So since the segments are pretty half and half, we end up battling it out, but in a good way! She is a total badass and one of the nicest people you will ever meet, so we have a blast together! I pedaled off the start across Brake through again, it seemed so much slower than the first time! I then made my way across to the fast rocky downhill section and I saw Tasha, she couldn't keep the bike upright at the bottom, so I made a note to myself to slowdown so I didn't make the same mistake. As I kept pedaling down the hill I could see her dust, so I kept pedaling down Smooth Operator hitting all the lines I practiced. As I went off the last step up, I could see Tasha right ahead of me so I went to put in a hard effort standing up and I almost ate shit! I could hear everyone say, "whoa" but thankfully I made it to the finish where I just fell off the bike to the ground because I couldn't breath again!! I was done! Thanks to Micayla, she was running Pinkbike's instagram and got the whole thing on video. LOL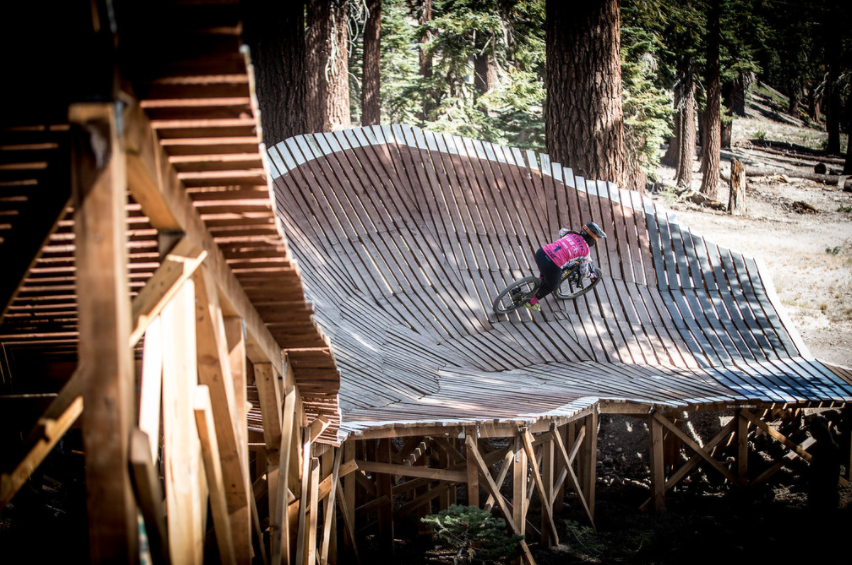 Photo by Called to Creation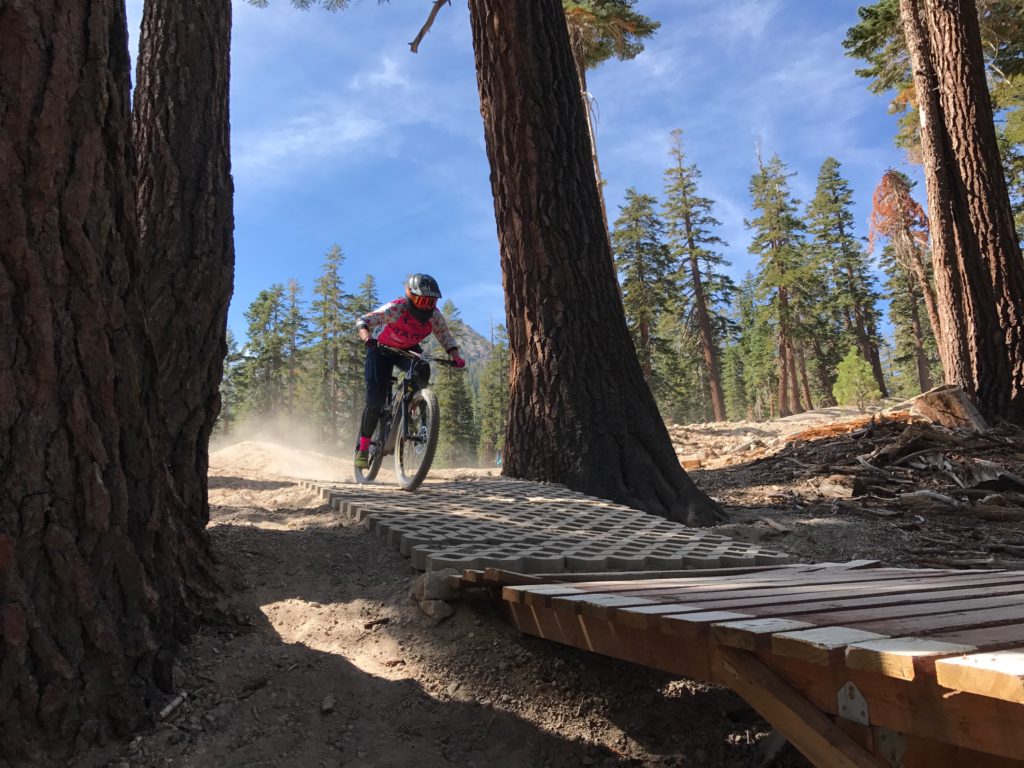 Photo Credit Maddie Giger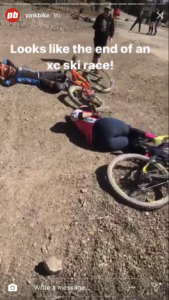 Thanks Micalya! LOL
We had to pedal from Canyon Lodge to the Main Lodge for this next segment, I had to stop a few times and stretch out my back because it was super tight. I got to lift and this time we headed back up to the top of the mountain for the longest stage of the day. Again, Tasha lined up in front of me and told me to holler if she was in my way. So we started and the fun thing about this stage is that you can see way ahead on the segment so I just kept pedaling ahead looking for miss Tasha! When we hit the cross over trail Lincoln Express, I was dying, I felt so slow through all the corners before and was tired of pedaling, lol, but then I saw Tasha just a corner ahead. I thought, oh shit…I either need to get in front of her a good distance before we hit the downhill or I'm screwed, I knew If I didn't have enough time she would fly through the technical section on Follow me because she knows it well and I would have to try and get out of her way. So I just kept pedaling, I was getting closer and was right on her wheel as we dropped into follow me, I hollered at her so she could hear me hoping that she would pin it, which she did but not because she heard me but because she knows the trail well. 🙂 I stayed pretty close to her until I got buck wild and was heading straight into a tree, I had to skid to a stop and get positioned back on the trail. We both finished laughing and happy again!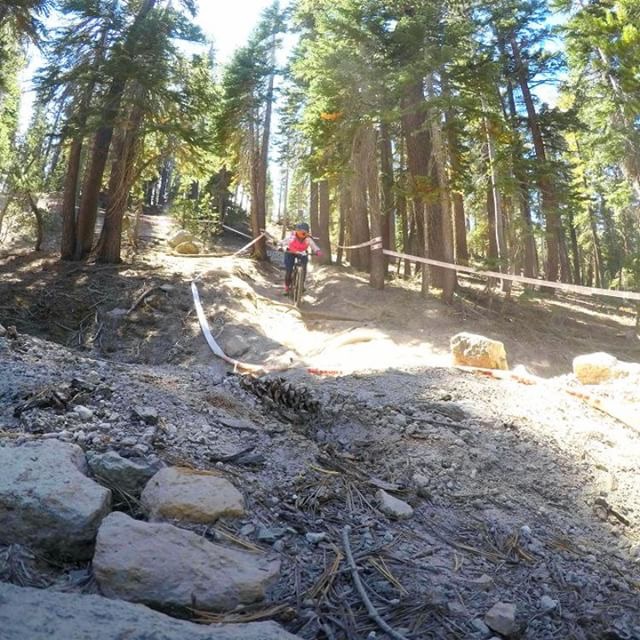 Photo by Maddie Giger
Her and I kept battling it out stage after stage, I was ahead by a few seconds after the first stage, then after stage two she was ahead, after three and 4 I was only ahead by 5 seconds. The last stage is Bullet and I was like, ah shit Tasha…Bullet is your favorite stage, I'm screwed!! LOL
So we took a little break before we went up to the last stage and we headed up. When we got to the top I saw there were some pro men up there, so I told her I was just going to go before they went because I wanted to be done with the day as I was super sore. So I went, and I nailed all of the sections I had practiced and I felt good all the way down the hill, I got to the bottom and was excited to see my parents waiting for me! It was a bit before Tasha came down, I was like where the heck is she….well she broke her crank and pedal off in the Heart of Darkness (I don't just make up these scary names, there are reasons for them!!) and she rode the rest of the stage on one pedal!! She is my hero!! She is such a badass, she rode the elevator shaft down with one pedal! I would have died!!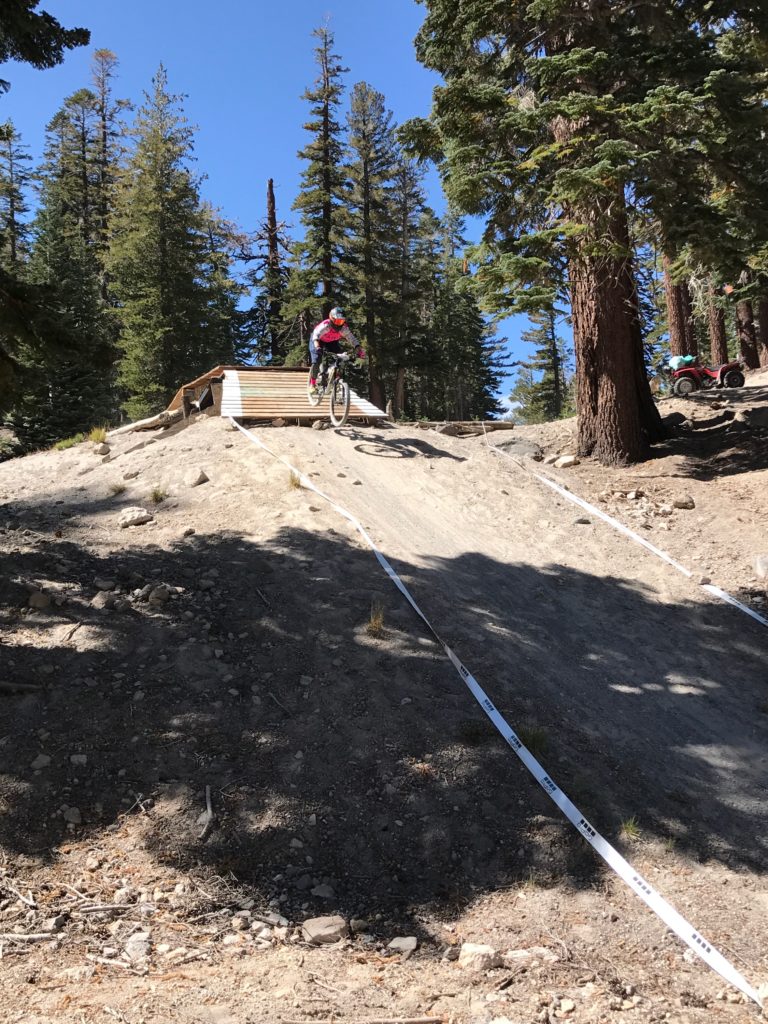 Photo by Maddie Giger
I ended up beating her, but not without a battle!! I finished 6th for the day, I was stoked. I made it through without any crashes and was just off the podium. Overall it was a great weekend, lots of bikes, friends, food and fun!! I'm already excited for next year at Mammoth!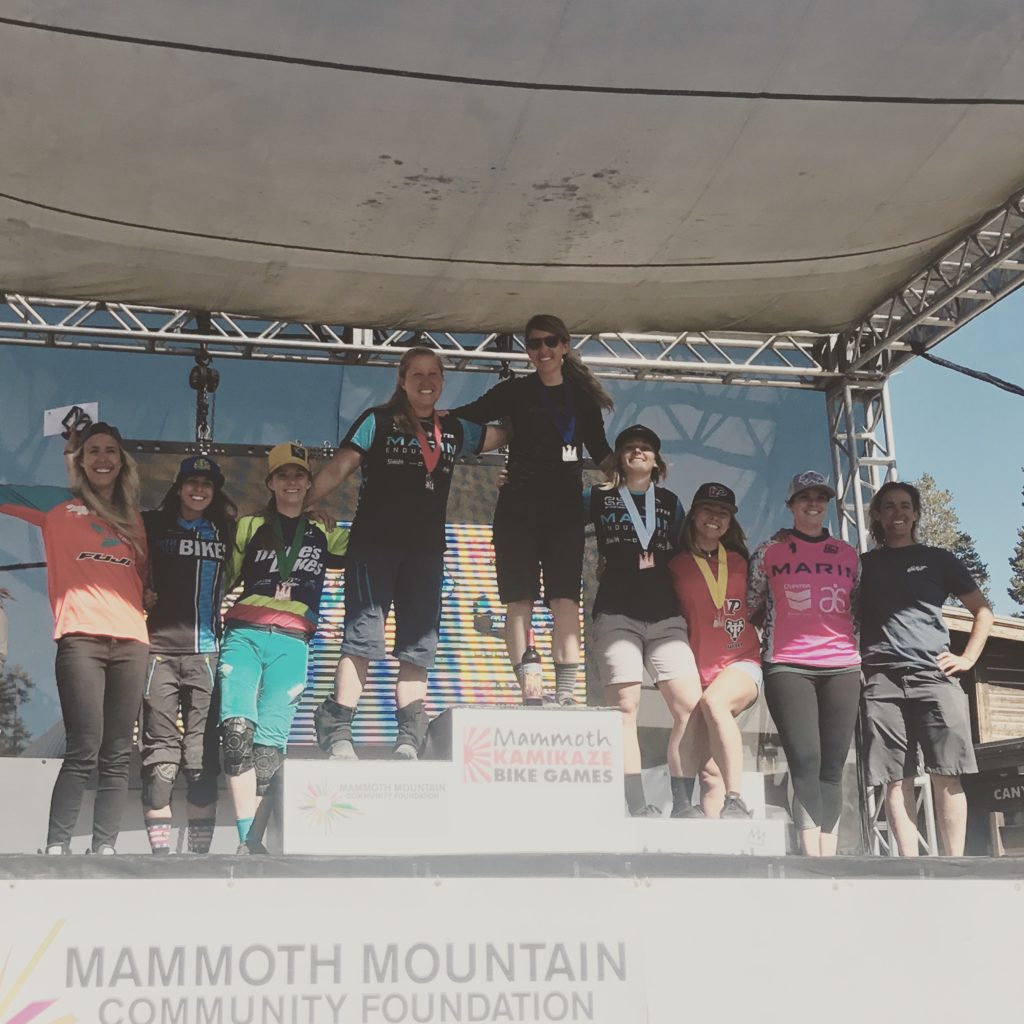 Huge shout out to Matt Guntert for all the local hookups for the weekend! Not only did he take us around the mountain, he hooked up my dad with a full face helmet for his week of fun! Also, shout out to Megan and Steve for all of their hard work putting together this series!
Thanks to all my awesome sponsors for their support this season! Marin Bikes, Westridge Chevron, DNA Cycling, Skratch Labs, Sweet Protection, Smith Optics, Gform, Glace Cryotherapy, Grifall Family Chiropractic.