This last weekend was the first stop of the California Enduro Series Golden Tour at China Peak resort. I camped in our usual spot along the river with my partner in crime, Brian Astell (aka Trail Works Brian, aka TW Brian), for the weekend and it was the perfect spot. We had a little wading pool all to ourselves in the freezing cold river which came in handy race day for sure!
I was pretty excited for this race, because I usually do well in the technical courses vs the more pedally courses and this one is one of the more rocky ones. I didn't race this race last year because of mono, so I wanted to get a run in on all of the stages to refresh my memory from 2 years ago.
Stages 1,2,3 and 4 were the same this year and they added an additional stage 5 which was super rowdy! I decided to practice the course in order so we hit the first stage and boy was I surprised at all of the water on the course! The top section was a full-on mud bog and I wasn't happy to get my bike dirty right off the bat! LOL! Stage 1 and 2 were pretty easy, straight forward stages without anything super technical. Stage three is one of the longest and starts off with some fun rock sections, a ton of pedaling, and then a rock garden before you pedal through the trees and creek crossings to the finish line. Stage 4 is the stage that you get to race on the rock slabs down the hill and it's one of my favorite stages! Last but not least, Stage 5 was brand new this year and it was SO MUCH FUN! It's exactly what I love to ride, steep, loose, rocky downhill section up top and then pretty pedally and fun to the end of the stage.
The first time I went down stage 5 I wasn't sure what to expect, there were a couple of fun rock drops, off camber slabs and loose, deep corners that were SO STEEP! I crashed a couple of times on the first time down, but I didn't get hurt because it was so soft. I learned I probably should have kept my speed up instead of going slow checking out the course, because that's what made me crash…not enough speed.
After I re-fueled and TW Brian replaced my brake with his carbon brake I decided I wanted to run stage 5 one more time at a faster pace. Well to say it was a disaster is an understatement! I crashed so many times because there were so many people stopped all the way down the course and it had gotten so destroyed by so many people pre-riding it! I smashed TW Brian's carbon brake on the rocks and felt so bad that I broke it!! OOPS! I decided it was time to call it a day.
We had a great spaghetti dinner and cooled down in the river before we watched Dillon's gopro of the courses just before we headed to bed. I slept like crap that night, maybe it was because of Dillon's derrièr, or it could have been the fact that I had hit the ground pretty hard and hurt all over!! UGH!
I woke up race day and did my morning routine with breakfast, yoga stretching and breathing and then got ready to go! For the first transfer we had to climb up to the top of Stage 3 which took about an hour, it was pretty warm and we got to the top just as the pro women were getting ready to take off. I usually like to get up there a little faster, but the climb was slower this year with all the soft dirt.
Stage 3 (our first race stage) was a complete disaster! I started off going off course through some rocks and couldn't get clipped in and back on course, I should have gotten off the bike and ran it would have been so much faster! I tried to compose myself and to focus on staying up right the rest of the stage so I kept pedaling knowing I had to go through the technical rock garden. Caro caught me just before we went through the rocks (this girl can pedal, just in case you wanted to know!) so I tried to stay with her through the rocks, which I rode perfect, but then disaster struck again….my front tire fell off a wet bridge and my front wheel fell in the hole and over the bars I went. It happened so fast that I was still clipped in and pinned under the bike. I was stuck, I couldn't move at all….luckily there was someone there who was able to help me get unstuck. When I finally got up, my bars were rotated and I had to get them straight again. It was awful, I was pretty much down almost 2 minutes after the first stage of the day.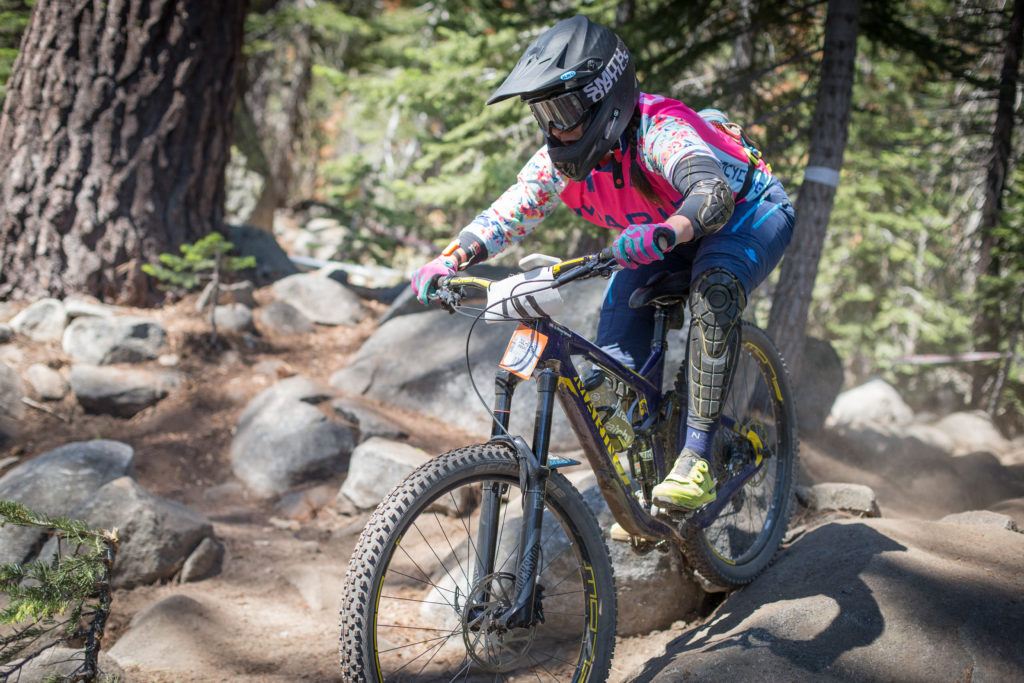 Next we got to take the lift up to Stage 1. Remember that mud bog I talked about….well it was WAY MUDDIER on race day! I thought it might dry out a little bit, but oh no!! This girl got stuck in the mud and had to hobble through the muddy forest. HA! I finally got through the stage without too many mistakes after that. I should have done what Caro did,  her cyclocross skills kicked in and she hopped off and ran through the whole section!
On to Stage 2, it was just a short transfer up to the top of the stage. I tried to keep myself focused and look ahead through the stage so I didn't have any more crashes. I managed…slowly but surely I got down. I felt so off, I just didn't have the lungs or the legs and it was pretty frustrating. Once I got to the bottom, they said they weren't opening the next stage for 2 hours (we had to climb up which would take about an hour) so I knew I had to cool myself down.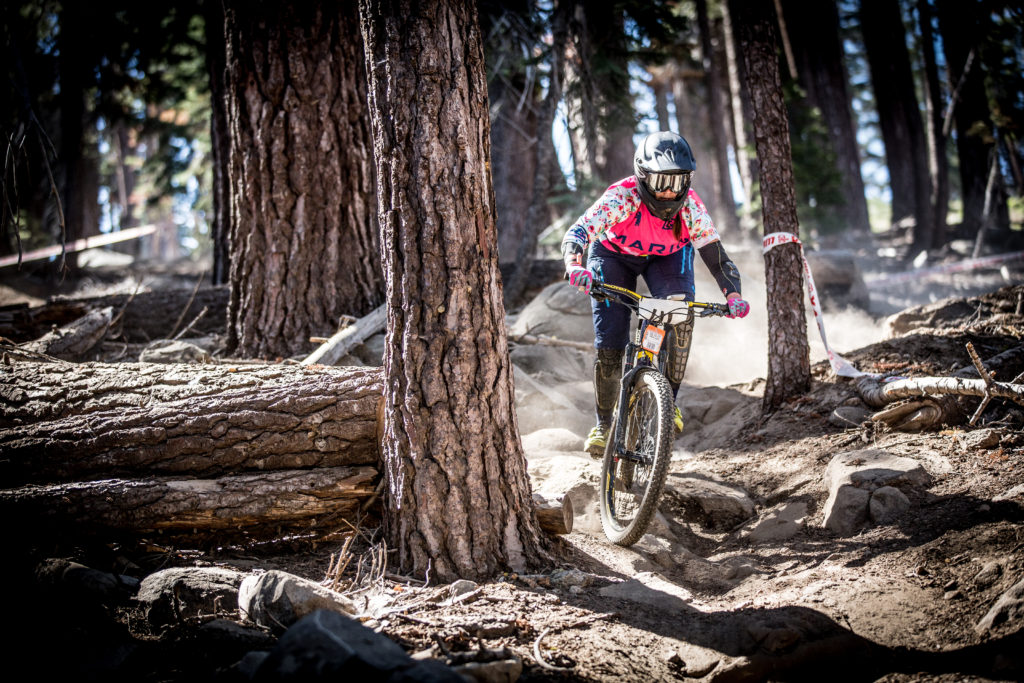 I went to the river and sat in it to cool my feet and head because it was so warm, I was struggling a lot. I got some food and ice for my water and headed up to Stage 4. We had to climb up to 4, so Lily and I stopped in the creek halfway up to keep cool. I was dying in the heat! I knew I had to just keep climbing or I wasn't going to make it to the top. We had to wait in line quite a bit for this stage and it was open and exposed so I don't think that helped me out at all. Stage 4 is one of my favorite stages, but for some reason I was so tired I could barely make it to the bottom of the stage. I was struggling to hold on to the bike and just tried to keep pedaling. I didn't crash, but I was so done after this stage.
I went to go get my chest pad on for the last stage and I had a meltdown. I was so tired, my shock wasn't holding air and I felt like crap. I started crying and Andrew Cavaletto and Ron DiNapoli were so nice and helped me fix my bike, they told me I had this and that I just had one more stage. I was seriously thinking about calling it a day because I knew that Stage 5 was the gnarliest and I didn't want to get hurt. I missed almost the whole season last year and I couldn't afford a broken bone to take me out. I wasn't confident in being able to get down the stage clean because I was so tired. Anyone that knows me, knows that this pathetic, meltdown, crying Bri is not me.
I pulled my shit together, with the help of a pep talk from TW Brian and got on the lift to 5. I took some deep breaths and calmed myself down, I asked for a little help from the man above and decided that I would just walk the upper section of 5 since the trip up the lift I was watching several people crashing super hard just below me. It wasn't worth it. So I did just that, when I got to the super steep stuff, I just hopped off my bike and ran, I can say I was proud of myself for making that decision instead of trying to ride it so I didn't look stupid….I would rather look stupid than be hurt. I made it through the technical section and pedaled as much as I could to get to the finish, not before I took a hard spill off a small rock drop. It was SO STUPID! The dirt just took my front tire and I went down hard. I got back up and finished.
I was so thankful to be done. I finished without quitting and for the most part wasn't injured too bad, just a little bruised and battered. I ended up 8th place for the day. When I got to my van to get ready to leave, I had a flat tire. UNBELIEVABLE!!! I just started crying and TW Brian came to my rescue, again!!! He and Ron were able to get my tire off and put the spare on after some quick thinking on tools since I couldn't find all of mine. DOH!
After my tire was fixed, TW Brian and I caravaned to Reno. It was the longest 6 hour drive, I think we got there just after midnight. We woke up and decided to head to the lake with the paddleboard and kayaks with my dad, sister, brother-in-law and nephew. It was a blast, we ended up in the water for hours swimming and paddling, it was just what I needed for my legs. They were pretty messed up, I could barely walk they hurt so bad!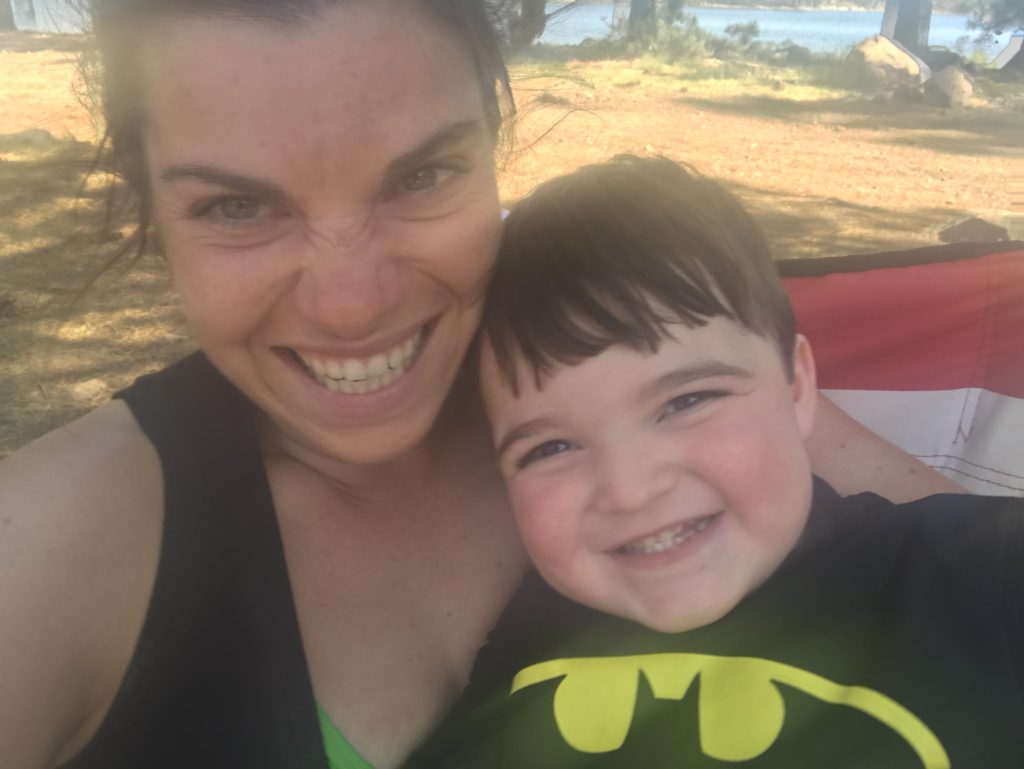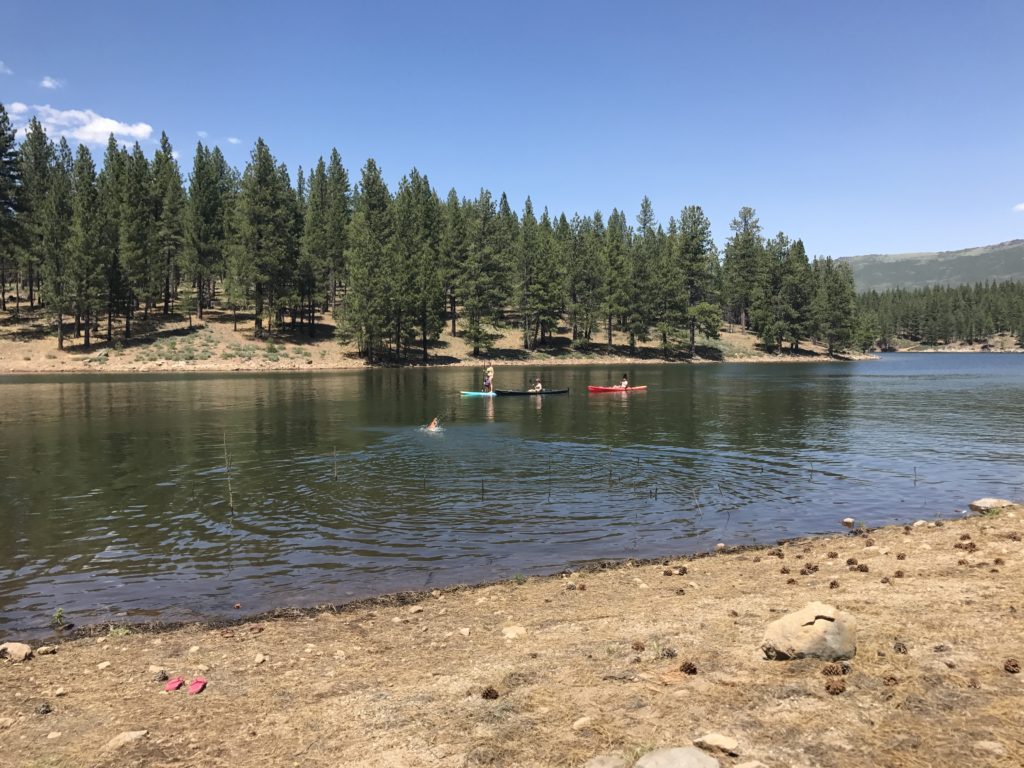 The next day we headed up to Northstar with Zach Waymire. TW Brian  had never ridden up there, so we took him down Livewire to warm up. It was pretty fun, I forget how fun those jumps are all the way down! We did a few more laps down it before I lost my phone and we had to turn on Find my iPhone as we followed it all around the mountain. Luckily someone grabbed it and headed to lost and found….we weren't so sure if they were taking off with it or not since it kept traveling down the mountain. LOL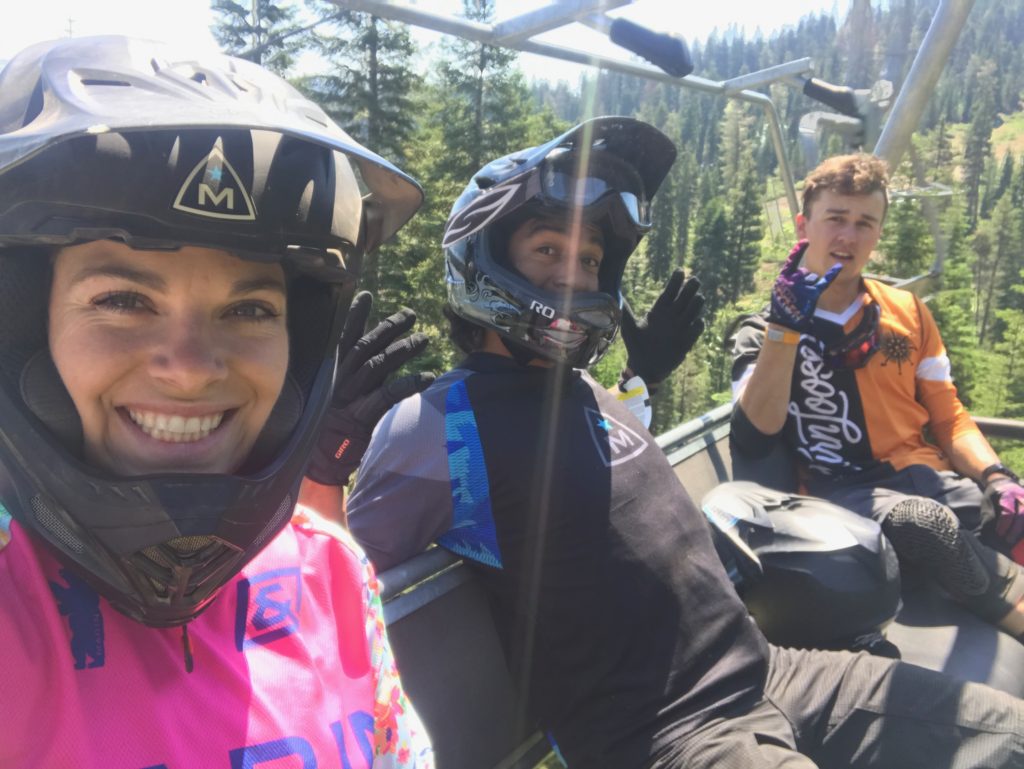 Overall it was a good weekend. I was pretty excited to get home Tuesday so I could just take a long nap!!! I was exhausted from the whole trip, but super glad to see my family for a few days!
Next race is the CES at Big Bear down south, should be pretty fun. I haven't raced down there since Butler and I used to race the XC races down there with Tom from the Big Bear series! I'm hoping that Butler will be able to join me on this one! Fingers crossed!