This weekend was such a blast!! Not only was it my birthday weekend, but it was the second race of CES!
Brian and I had a couple of super rad friends Brian Astell and Essence Barton staying at the house with us, so we got to trade training and nutrition tips and good stories all weekend! We only wish we had more time to just hang out with them!
Race day arrived quickly on Saturday and was clouded over, which I was happy about since that's what I typically train in. All of us ladies got ourselves all ready to go and headed up to the first stage for the day.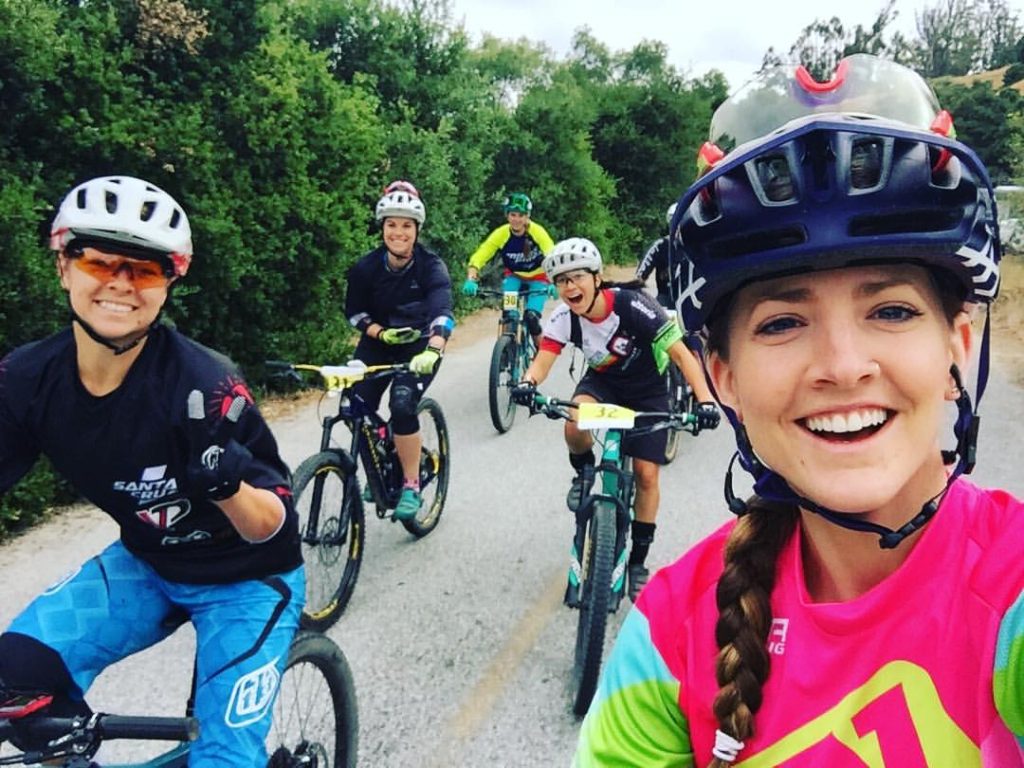 When we were at the top of stage 1 we realized there was no timer, so we had to wait for the timer to get there which took about 40 min! It was awful because we pedaled up and were warm and sweaty…. and then we had to just sit in the cold. It was not good for my legs! The first stage was a pedally one and I kept trying to push, but I couldn't get my legs to go even though I was breathing super hard and my heart rate was pinned. I got to the bottom feeling a bit bummed about not going faster!
After that we headed up to stage 2, which is one of my favorite stages. It's what we locals call Rail Trail because you pretty much rail the whole way down! Once we got to the top of this stage I knew that I had to pin it as fast as I could, so I made it down this stage without making any mistakes. When I finished, I was super excited to see my good friends Kelsey and Zach and Momma and Papa Linder at the bottom of this stage, they came out to support me and it meant the world to me! <3
As I was filling up my water and getting food we checked results and I was sitting in 3rd. I was just a few seconds off of Essence and almost tied with Janea. I knew that I needed to have nearly perfect runs on the next two stages to stay in that group.
I saw the 100% tent set up on the grass and headed over there to tell them about my gloves that I just bought that had already started coming apart. Jason was super nice and hooked me up with a BRAND NEW pair of gloves. THANKS Jason!!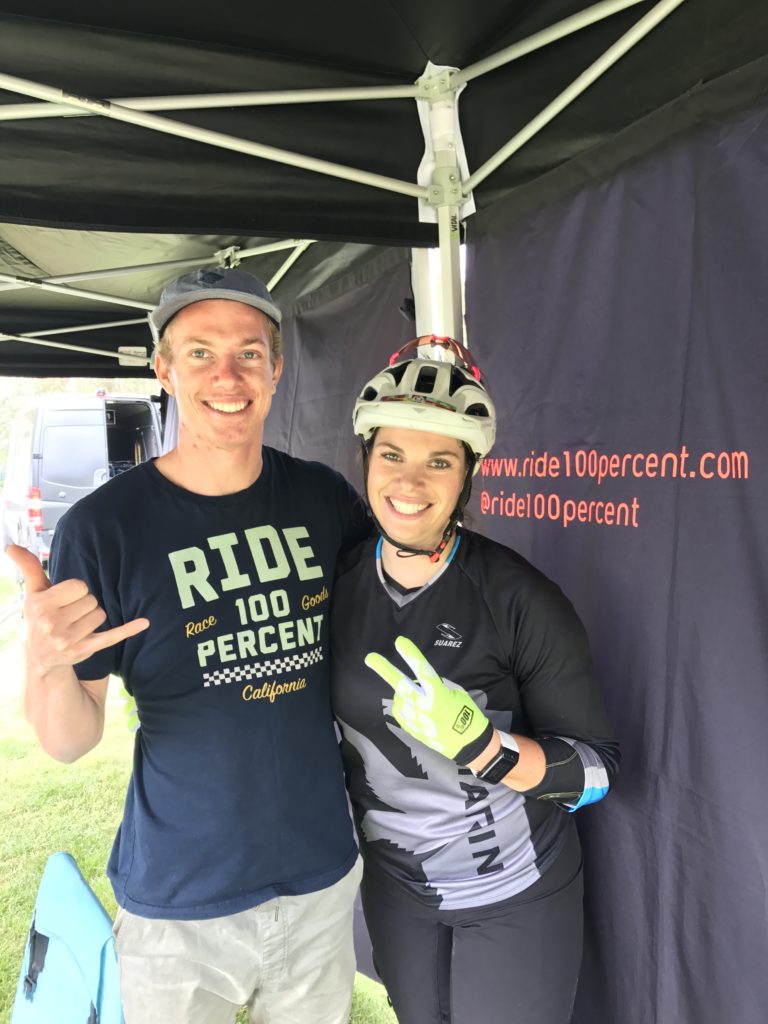 Next I headed up to Stage 3. This stage was the more pedaly downhill of the two DH courses. I pinned it on the top fireroad section, but as soon as we hit the switchbacks I basically had a cone head. It's like I forgot how to ride a bike!! On one of the switch backs there was a new line and I slowed down to take it, but then I was like….no, don't take a line you didn't practice…so I practically stopped to go around the other side that was the line I practiced! CONE HEAD!! I am the one that tells all of my kids, it's faster to ride a slow line fast than a fast line slow. Ride what you practice!! DOH!! The mistakes continued on down the trail….I was super bummed when I got to the bottom. I knew I messed it up and that sucked!!
I then knew I had to make no mistakes on 4 which was going to be difficult as this was the most blown out stage out there. We go after all of the beginners and sports do, so since this is the "technical" trail out there there are a lot of lines that go straight off the trail because the beginners don't have as much control. So you have to try and stay out of their ruts as much as possible. I think I got myself a little worked up for this race since it's my home course and I wanted to do well. I again just started making mistake after mistake on this stage and I almost flew off the trail because I got so out of control in the loose "poof dust". I had to get back on course and make my way down to the finish. I didn't have any crashes for the day, but I knew all of the mistakes I made cost me a lot. I was happy to have Kelsey, Zach and Momma Linder there waiting for me at the bottom!
Overall it was a great day! I got to hang out with friends and ride my bike, which is always awesome!! I ended up 4th place just a second and a half behind Zephyr, with Essence and Janea on the top two steps.
Brian and I were sitting on the couch after the race talking and he was looking at a magazine, he handed the open page to me and it was the perfect quote for me at the time, "When you have good legs but don't get the result you want, there's disappointment. It's okay though, It's all part of cycling. Next week we go again!" – Alena Amialiusik, Pro Rider – Canyon/SRAM Racing
The ladies are riding fast this year and I am excited for the next race at Wild Wood!
Thanks to all of my sponsors, this wouldn't be possible without them!